Church giving has changed a lot in recent years. As the world becomes increasingly mobile, people are using less checks and relying less on cash. During the holidays, Amazon has reported that nearly 70% of their transactions come from smartphones. Even the way people buy coffee is changing: Starbucks recently saw 29% of their transactions come from mobile devices. Almost one third of the people standing in line with you for a grande white chocolate americano with steamed cream are buying with their phone.
Is your church ready to do something about it?
Churches today have a lot of ways to make giving more accessible, including text-to-give options, web forms, giving kiosks, and mobile apps. To help you choose what works best for your church, we've put together a list of the best giving software for churches. This list only includes software specifically designed to accommodate the unique needs of churches—that's why the online transaction titan, Paypal, is notably absent.
Here are the best giving software options for churches: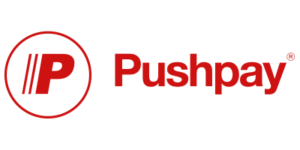 Platform: Mobile
Price: Custom
Transaction fee: Not listed
Free trial: No
What sets Pushpay apart?
"Instead of giving reactively based on what is in their wallet or missing a donation because they couldn't make it to church that week, eChurch's Pushpay enables planned and recurring giving in addition to a direct line to giving so members of your community can setup their consistent gift anytime . . . anywhere." —from the website
Here's what else you should know:
Custom church app. Pushpay lets you create a custom church app to keep your congregation connected to your church throughout the week. In the app you can send push notifications, access bulletins, share reading plans, watch live streams, and more. According to a Nielsen report in 2015, when people use the internet on their phones, only 11% of that time is spent on the web. The other 89% is in apps.
Congregation onboarding. One of the biggest fears about rolling out a new giving solution is that it will be too complicated for your congregation. You probably can't personally walk every person through the process, and with Pushpay, you don't have to. Clear onboarding ensures no one in your congregation is left behind.
Speed. First-time gifts take 30 seconds on Pushpay.


Platform: Web-based, with kiosk, text-to-give, and mobile add-ons
Price: Starting at $30 per month
Transaction fee: 3% plus $0.30 per transaction
Free trial: Yes
What sets E-zekiel apart?
"E-zekiel Giving offers your members a secure way to give online, through their mobile device and on your campus. . . . E-zekiel Giving can be set up and ready for use within 2-3 days."
Here's what else you should know:
Church management software. Online giving is actually just one feature of E-zekiel's church management software. You'll also get a church directory, attendance tracking, background checks, a calendar, mass communication options, and more.
Custom church app add-on. You can pay more to get a custom church app with your branding. In addition to what you pay for E-zekiel's CMS, the app costs $199 to set up plus $49.99 per month. You can add your social media feed to the app, including your podcasts and blogs. Members can also submit prayer requests through the app.


Platform: Web-based, mobile, text-to-give, and kiosk
Price: Starting at $0 per month
Transaction fee: Varies by plan, but starts at 3% plus $0.39 per transaction
Free trial: Yes, for giving plus CMS
What sets easyTithe apart?
"easyTithe puts more money on your bottom line per donation than any other system, program, software, or company out there, period. . . . We have a cost effective solution, jam packed with tools & features, that has been time-tested and proven. easyTithe helps minimize the fees, so you can maximize your ministry!" —from the website
Here's what else you should know:
Free option. easyTithe has a free option that includes slightly higher fees and less features, but allows your church to provide web forms and mobile giving. This is the only pricing plan that doesn't include the online store. Text-to-give and kiosk options are add-ons.
Not a custom app. While you can add your branding to the online web form, the easyTithe app isn't a custom church app, and it's sole purpose is for giving.
No startup fee. Your church can get started with easyTithe in 24 hours or less, and there's no fee for starting a plan.
Donors can pay your fees. If you want to, you can prompt donors to pay an additional 2-3% at checkout to cover the transaction fees. Your congregation can choose to check a box at checkout, and the additional charge is automatically added.
Online store. Create a custom online store to sell your church merchandise.


Platform: Text-to-give
Price: Starting at $25 per month
Transaction fee: 1% or 0% depending on pricing plan
Free trial: Yes, 30 days or your first $250 in donations
What sets Txt2Give apart?
"Our culture has changed, and people want an easier way to give. We have the solution. . . . If your donors can send a text message, they can make a donation. And with Txt2Give, they can give from anywhere, at anytime. Whenever generosity strikes." —from the website
Here's what else you should know:
Flat-rate or volume-based pricing. If you receive less than $3,500 per month in donations, Txt2Give offers a flat rate of $25 per month plus a 1% transaction fee. If you receive more than that, it's $60 per month with a 0% transaction fee.
Donations trigger custom follow-ups. You can create custom responses and trigger follow-up events when someone uses Txt2Give.
Doesn't include credit card fees. Txt2Give relies on partners (like Paypal or Stripe) to provide your merchant account or gateway for giving, which means that you'll also be subject to their fees (usually a small percentage of each transaction).
Auto-reminders for pending donations. When someone texts your 10-digit number to use Txt2Give, but for whatever reason forgets to finish the transaction, Txt2Give sends an automatic reminder the next day.
Unique QR code for your church. If you're into QR codes, Txt2Give provides your church with a special code that starts the donation process when scanned, so you can include it on forms.


Platform: Web, mobile, kiosk, text-to-give
Price: Starting at $29 per month
Transaction fee: Not listed
Free trial: No
What sets SecureGive apart?
"Shift your focus from money to mission with the industry's first egiving platform, developed by a pastor to strengthen and grow churches." —from the website
Here's what else you should know:
Created the first kiosk and mobile giving app. SecureGive was first on the giving kiosk scene in churches, and first to create a mobile giving app.
Started by a pastor. SecureGive was started by a pastor in 2004, after he explored online giving options for his own church and found that there wasn't a way to do what his church needed.
Integrates with your mobile app. SecureGive provides an app which can add your branded images, or if you already have a mobile app, you can add SecureGive to it.
Add additional kiosks. For an additional $50 per month, you can add another giving kiosk.


Platform: Mobile, web form, kiosk text-to-give
Price: $0 (text-to-give is $19 per month)
Transaction fee: 2.9% plus $0.30 per transaction
Free trial: No
What sets Tithe.ly apart?
"We believe giving to your local church should be Meaningful, Simple, and Fast. That's why we built a comprehensive suite of digital giving tools for your church." —from the website
Free giving forms, add-ons cost more. You can use Tithe.ly without paying a monthly fee or setup fee. Adding text-to-give costs $19 per month, and getting a custom church app starts at $39 per month.
Takes five to ten minutes to set up. Setting up Tithe.ly takes minutes, not days. Some apps require 2-3 days to process and register your church.
Personal fundraising. Individuals can raise money for camp or missions trips with a unique URL they can share on social media.
Which giving software does your church recommend?
Have you had a good experience with one of these brands, or another software that's not on the list? Tell us why it's great in the comments.