So you're looking for a new acoustic guitar for worship, but you're not sure where to start. Well, you've come to the right place!
Whether you're looking for your first guitar or you're just looking to replace the one you've got, I've picked out 10 strong choices that will fit your budget.
Guitars under $500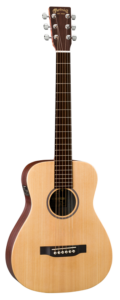 I know what you're thinking. You came here for some some awesome suggestions for acoustic guitars, and the first suggestion is travel sized. Before you click away, hear me out.
This little guitar has an incredibly rich and loud tone, and the Fishman Isys T electronics make it sound like magic on stage.
The size is perfect for carting around and—quite honestly—it's an incredibly comfortable guitar to play on stage. Ask Ed Sheeran.
Oh, and I love the built-in tuner.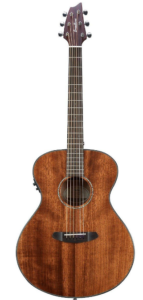 Breedlove makes great guitars. I remember a coworker bringing her new Breedlove into my office one day and just being blown away at how sweet it sounded.
The mahogany body in this budget acoustic is not only gorgeous, but it also produces an incredibly warm sound and really expressive mid-range. The lack of cutaway in this body really adds to a fuller, more pronounced tone.
The Fishman ISYS 3U1 System with even has a built-in USB port to make running it through GarageBand or any other recording software a cinch.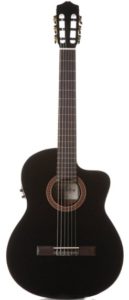 If you're like me, you need a nylon stringed classical in your arsenal—but you need to be able to run it through the system.
The Cordoba C5-CEBK has a solid Canadian cedar top, and mahogany back and sides. The construction is based on a traditional Spanish-style classical with the exception of the cutaway to give you easy access to those upper frets. The jet-black color truly makes this guitar a stunner.
The Fishman Isys+ 2 band pickup system sounds great, and I never feel like I am fighting feedback at high volumes. Throw a little reverb on this, and the sound is out of this
world.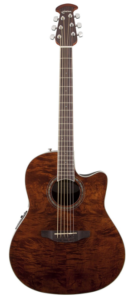 Ovation's take some getting used to. The rounded back can feels off and can really throw some people off. But once you become accustomed to it, you'll be surprised at how complex their sound is.
The burled maple top is amazing to look at and, like all maple acoustics, offers a real tight and bell-like tone. Ovation's innovative Lyrachord body is specifically designed to really project. People who play Ovations for the first time can't believe how much volume they put out.
The onboard OP-4BT electronics are great. Ovation did a lot to pave the way for acoustic/electrics, and they're keeping that innovation alive here.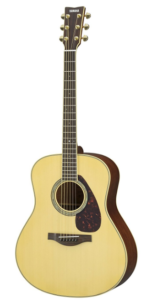 I can't say enough good things about Yamaha guitars. I've played some really cheap Yamahas and have enjoyed them more than many moderately priced Fender acoustics. The construction is good, the necks are solid, and they typically sound pretty good.
The LL6M is built with Yamaha's A.R.E. (Acoustic Resonance Enhancement) process which gives it the characteristics of a beautifully aged instrument. The modified non-scalloped bracing really gives it a deep low end.
The passive SRT Zero Impact pickup is a perfect way to really project the guitar's natural tone without a bulky pre-amp. Each string has its own piezo element which really improves the balance.
Guitars under $1,000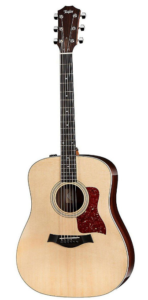 If you're looking for a Taylor that won't break the bank, the 210e Deluxe is a good place to start. The action and neck make it feel like silk to play. And when you plug it in, it's one of the best sounding acoustic pick-ups on the market.
The sitka spruce top and rosewood back and sides gives it this dreadnought the signature Taylor sparkle. If you play a lot of rhythm and really dig in, this guitar is going to deliver a punchy and powerful tone.
Located behind the saddle is Taylor's patented Expression System 2 which features three carefully calibrated pick-up sensors. The dynamic range on the ES2 makes it one of my acoustic pick-ups.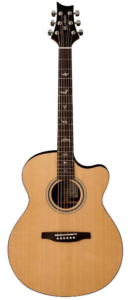 PRS has been known for high-end electrics for some time. When they decided to make their foray into the acoustic market, they didn't go halfway. The PRS SE Angelus A30E is one elegant and sweet-sounding axe.
The neck features the beautiful birds-in-flight inlays you'd find on their electrics and the same headstock. But that's where the similarities stop.
The PRS SE Angelus A30E has an amazing X-bracing with fan bracing under the top. This is to match the bass-heavy guitars built by Antonio Torres in the 1800s. It has a particularly lush sound for a guitar in its price range.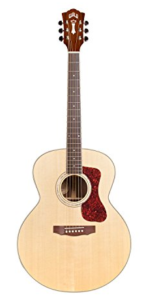 Guild's been making incredible acoustics for a number of years. If you can get your hands on one from the 60s, you've struck gold. This piece comes with all the accouterments you'd expect from a Guild like the vintage-looking tortoise-shell pickguard and "Chesterfield" headstock inlay.
The jumbo body is perfect if you're looking for a little more power. The rosewood construction gives it an resonant and full sound which really punches through a worship team's mix. And if you're playing rhythm, a jumbo guitar is the way to go.
This is the only one I'd suggest that doesn't come with a built-in pickup system. But it's good to know that none of your investment is getting sunk into electronic, it's all going into one fantastic guitar.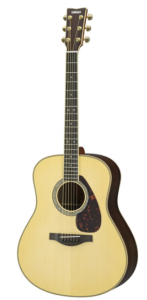 The bigger sister to the LL6M featured earlier, the LL16 takes everything up a notch (or two). It features a solid Engelmann spruce top, a multilayered mahogany/padauk reinforced neck, and an ebony fretboard.
The wood difference here makes all the difference in the world. Their Engelmann spruce from Canada is the perfect top wood that has a rich tonal response and a wide harmonic range. The rosewood back and sides allow the sound to develop evenly.
For my money, the lacquer on this guitar is incredible. You woudn't think that makes a big difference, but it does. They keep it very light and even. This allows the guitar to breathe and vibrate, which kicks its tone into the stratosphere.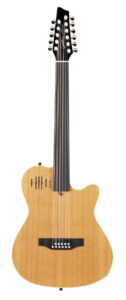 I couldn't help but throw a slider in here. If you want to be doing something different than the church down the block, this is the way to go. The Godin A11 is an 11-string, acoustic/electric, that's fretless, and strung with nylon strings.
If you've thought to yourself, "I think my worship team would enjoy something with a middle-eastern flavor, reminiscent of an oud, that will allow me to be microtonal," this is your guitar.
Don't be too intimidated. It's still tuned like a guitar and there are markers to let you know where the frets would be. The double strings aren't tuned in octaves like they would be on a 12-string. Rather, they're tuned in unison to give you that oudish sympathetic ring. It features a built in preamp and an equalizer.
Looking for an electric?
I've put together a solid list of electric guitars for the budding worship musician. Take a look!