Whether you're looking for an electric guitar for worship or for your son or daughter to play, we've put together some solid choices for budget-minded electrics.
The time has never been better for getting a quality electric at a fair price. The cost of manufacturing has gone way down—and so has the price for many of the parts. This means that you can end up with a great guitar without breaking the bank.

Guitars under $500


Fender's Telecaster is an enduring, classic electric because of its versatility and ability to cut right through a mix of other instruments. The Modern Player Tele Plus takes that versatility to another level. With a humbucking pickup in the bridge, you can get a a much broader palate (a lot more gain) than with the typical Tele, and the coil-split switch still allows you to split the humbucker into a single-coil pickup for more tonal choices.
The humbucker also means that your sound guy won't be struggling to dial the hum out of your sound on Sunday morning.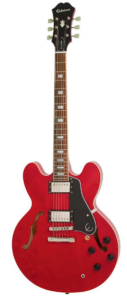 In 1957, Gibson guitars bought the struggling Epiphone company. It became a brand known for providing cost effective alternatives to the more expensive Gibson line. When the Beatles started using Epiphone guitars almost exclusively the brand took off.
If you're looking for a rich sound with a lot of body and depth, the Epiphone DOT is for you. It's perfect for ringing or crunchy chords and singing sustain, and it looks incredibly cool to boot.

While we're on the subject, the Epiphone Les Paul Standard is another strong choice for under $500. Lead players have often gravitated toward the Les Paul because the solid tone woods (this thing weighs in at about 9 lbs.) really hold a beefy note with a lot of clarity.
The alnico humbucking pickups make it pretty versatile, but it's really an ideal instrument for more modern worship styles. If you're looking for a reliable, well-built guitar, you really can't go wrong with this one.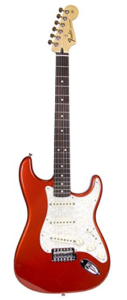 There are few guitars like the Fender Stratocaster. When people think about electric guitars, they're often picturing a Strat. Why? Because it's iconic. It's the guitar of choice for so many respected musicians and it adapts well to almost any musical style.
The FSR stand for "Fender Special Run." These guitars are produced specifically for individual retailers. The fact that they're manufactured in Japan keeps prices low. But Japan manufacturers are known for creating an environment of craftsmanship and attention to detail. Many players consider FSR Strats to be every bit as good as American-built Strats at a fraction of the cost.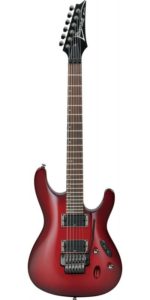 I really can't say enough nice things about this guitar. It's light and comfortable, but still offers great tone and sustain. It's also a real player's guitar capable of complex 32-note shredding, while still looking classy enough to be used at church. The Wizard III neck is excessively fast and responsive.
This is the only suggested guitar in the under $500 range that comes with a professional tremolo unit. The Edge Zero II Tremolo allows you to change your pitch effortlessly without making you grab your tuner every time you use it.
Guitars under $1,000


From the Ibanez S520, we jump up to the Ibanez S770PB. This guitar will run you a couple hundred more dollars but it's a dramatic step forward in quality (and the S520 was no slouch).
It's signature body is carved out of mahogany which is a lightweight wood that's extremely strong and responsive. The upgraded Quantum pickups offer more bass response which gives it an even, smooth sound—but is completely capable of tracking exceptional fast riffing with plenty of high-end articulation.
For a guitar under $1000, you'll be surprised at the beauty of the S770PB.

PRS is known for incredibly well-designed guitars for serious musicians. The SE line offers the same kind of quality to aspiring and gigging guitar players. It's a durable and addictive workhorse. Most SE players swear that this guitar plays as good as PRS guitars selling at three times the price point.
Not only is it a solid, well-built axe, but it's also beautiful to look at. The wood figuring pops right through the finish, which the zebra-style humbuckers offset perfectly. The PRS bird inlays in the neck provide a gorgeous touch of elegance.

This is the quintessential Telecaster. It has an alder body which creates a strong guitar with clear, ringing tone for days. The retro-styled bridge really gives this Tele the snap and chime that originally put the Tele on Nashville's map.
It comes stock with two Texas Special single-coil pickups. The bridge pickup delivers plenty of bite with a touch of warmth and the Greasebucket tone circuit allows you to roll off the highs without offsetting the tone with a ton of base. The neck pickup gives you a meaty, throaty, full tone that's perfect for a clean singing tone.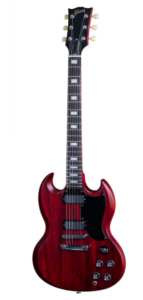 There's something about an SG that's just so fun to play. This special 2016 model is made from a solid mahogany body with a set maple neck.
They actually went back to the traditional neck width with this model, and included a self-lubricating Graph Tech nut to make the sustain even better (?!) while improving its intonation. The rosewood fingerboard is thick and feels solid, offering that traditional SG tone.
It features alnico-powered Rhythm and Lead Tribute Humbuckers that give you the warmth you want, while allowing you to dial in searing lead sounds when you need them.

Line 6 is an innovative company known for their digital amps that model a variety of classic sounds. They collaborated with the Yamaha factory to create this budget-minded guitar that fills a guitarist's toolbox with an unbelievable number of sounds.
Gimmicky? Yes. but if you're playing lead in a worship team, it's nice to be able to push a button or turn a knob and change your tuning or swap out your electric tone for a passable banjo, 12-strong, or acoustic sound. This thing is packed with an entire collection of various models of classic electric, acoustic, and exotic guitar sounds.
On top of that, the guitar is solid and well built, and the magnetic pickups that come bundled with it will provide great Strat-styled tones when you're not using the modeling function.
Looking for an acoustic?
I've compiled a similar list with some strong (and interesting) choices for acoustic guitars. Check it out!